Duvalay – Comfortable sleep, anytime...anywhere…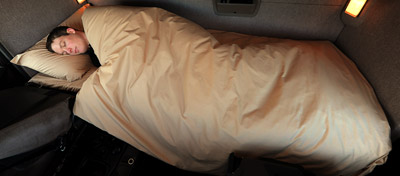 Duvalay, the company that makes sleep more comfortable away from home, specialises in memory foam matress toppers, pillows, travel toppers and the Duvalay sleeping bag for the home, in boats and motorcaravans.
Liz and Alan Colleran started the business by investigating a memory foam topper which was a more superior quality for caravans. Numerous materials, thicknesses and styles were tried and tested until the present products were perfected and the Portable Memory Foam mattress topper was born then other products using the same material followed.
The award winning Duvalay has become the perfect solution for any situation where the bed needs to be stored during the day. Recently, Duvalay have extended its range of memory foam sleeping bags with the addition of a new, thinner memory foam Duvalay, which is designed for more frequent and static use.
Whilst still offering a very comfortable night's sleep, the new thinner Duvalay is easier to fold away and store. This also means that it is lighter and easier to carry, suiting people who are frequently on the move on holiday, camping, staying with friends or even at a festival.
Popular with caravanners, holiday makers, truckers and anyone sleeping away from home, the Duvalay range shot even further to fame in 2011 after its appearance on hit BBC2 show Dragons' Den, where business owners, Liz and Alan Colleran secured an £80,000 investment from Hilary Devey.
The Duvalay has now become more accessible for all budgets without compromising the comfort, quality and ease of use that has made the range a household name.
To find out more information on Duvalay products, please click here.